Photo: two young orangutans grab a tourist at SORC
Earlier this year FOTO Malaysia questioned the release of a habituated Sepilok Orangutan Rehabilitation Centre (SORC) orangutan called 'Tiger'. Our statement, which was also printed by a local media outlet, was not responded to by the Sabah Wildlife Department, a Sabah government agency which manages SORC. Tiger is now back at SORC. Read our statement here.
On 2 October 2019, the Borneo Post (and other media outlets) reported that the Sabah Wildife Department now plan to send two "rehabilitated" orangutans, Ceria and Rosa, from SORC to release them into the Tabin Wildlife Reserve, a protected forest in eastern Sabah.
Both Rosa and Ceria were reported to have arrived at SORC at age one. Rosa is now 18 years old while Ceria is 13, based on web postings by a British organisation. Rosa was once labeled as often seen at SORC while she waited to steal from "her next victim" while Ceria was "Often seen: causing mischief whenever possible! Keep a safe distance from Ceria if you spot him!". Rosa gave birth to her baby in captivity at SORC in May 2018, based on a source. A video uploaded on YouTube apparently shows Rosa and her baby on a tourist boardwalk near SORC. We also invite SWD to comment if Rosa's infant is still in her care.
Ceria, meanwhile, is known among SORC staff as a physical risk to staff and tourists, according to sources. He attacked a SORC tourist in 2017. The attack is no fault of Ceria's, unsustainable tourism and hands-on volunteering practice at SORC is what is causing human habituation among orangutans at SORC. A SWD staff informed us that SORC is now wary of legal repercussions resulting from physical risks to tourists who visit the centre.
In the area of orangutan rehabilitation it is not common for orangutans saved at age one to take 10-15 years to be rehabilitated, and released as adults. Before they are moved to Tabin SWD needs to be completely transparent and explain on what basis they are transferring Rosa and Ceria, who are both completely habituated to humans. Another SWD staff confided in us that SORC is worried that the media would find out about the behaviour and risks posed by the centre's habituated orangutans. Was this also a reason in deciding to move Ceria and Rosa out of SORC?
We would like to question if both have been proven to forage on a daily basis on their own in the Sepilok-Kabili forest and built nests, all while staying away from human attention and dependency. All data which led to SWD deciding to transfer them to Tabin should be made public, as recommended by the IUCN, before the transfer is made.
The SWD should also inform for how many months they plan to conduct Post Release Monitoring – vital in ensuring the survivability of released orangutans. Data for this should also be made public. The previous release of a habituated orangutan called Tiger, which we were told was his second release, was again a failure again and his future is now in doubt once more. On 3 September 2019 SWD once again said they plan to release Tiger. There should also be full transparency on his planned release, including Post Release Monitoring results.
While Tiger was sent back to SORC in December 2018 the centre continued to play a video which included parts showing Tiger's release into Tabin, which would have given the impression to SORC visitors that Tiger was living a free orangutan in Tabin when he was actually in a cage at SORC. As of August 2019 this video was still playing at SORC.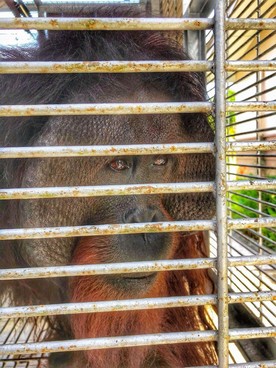 Photo: Tiger in his cage at SORC