Photo: two young orangutans grab a tourist at SORC
On 2 October 2019, the Borneo Post (and other media outlets) reported that the Sabah Wildlife Department (SWD) plans to move two "rehabilitated", yet human-habituated orangutans, Rosa and Ceria, from the Sepilok Orangutan Rehabilitation Centre (SORC) to release them into the Tabin Wildlife Reserve, a protected forest in eastern Sabah.
Both Rosa and Ceria were reported to have arrived at SORC for forest-release rehabilitation at age one, as orphans. As of 2020, Rosa is 19 years old while Ceria is 14. In the area of orangutan rehabilitation, it is not common for orangutans rescued in early infancy to take 10-15 years to be rehabilitated and released into a forest as adults. Rosa has been labelled as often seen at the centre (instead of the forest adjacent to SORC) while she waited to steal from "her next victim". She gave birth to her baby in captivity at SORC in May 2018. A video uploaded on YouTube apparently shows Rosa and her baby on a tourist boardwalk near SORC. We invite SWD to comment if Rosa's infant is still in her care.
Ceria is known among SORC staff as a physical risk to them and tourists. He attacked a tourist in 2017. The attack is no fault of Ceria's; unsustainable tourism and hands-on volunteering practice* at SORC is what's causing human habituation among orangutans at SORC, putting the apes' future in jeopardy. A 2016 Animal Planet documentary revealed that Ceria was attacked and injured by a pack of feral dogs. A source informed us that Ceria has been kept in a cage at SORC for several months at least and that the centre is currently wary of potential legal repercussions resulting from physical risks to tourists who visit the centre. In 2016 an orangutan attacked and injured a tourist, the identity of this ape is unknown. Another source confided in us that an influential individual who tries to call the shots at SORC is worried that the media would find out about the behaviour and risks posed by the centre's habituated orangutans. Are these the reasons for SWD in deciding that the apes, especially Ceria, should be moved out of SORC? Is this a case of dumping orangutans who can no longer make certain individuals money?
Below are statements which have been made by British organisation Orangutan Appeal UK regarding Ceria's behaviour:
– … causing mischief whenever possible! Keep a safe distance from Ceria if you spot him
– … hanging around the outdoor nursery again throwing rocks this time and now Kala has started to copy him!
– He's supremely interested in the human goings-on at the Centre and studies visitors and staff intensely, waiting for the next opportunity to wreak havoc
– … he and a gang of other adolescent orangutans raided the Centre's café… Ceria managed to open the ice-cream freezer and grab some treats
– … one of the rangers was in the small wooden boat on the lake cleaning debris away, when Ceria came up to the shoreline, untied the rope and then tried to haul the boat in whilst the ranger was frantically trying to keep himself afloat
Ceria's behaviour is extremely alarming and he does not seem to be a viable and safe forest-release candidate. His future to live as an independent orangutan might have been wrecked by irresponsible individuals. We have also written to explain how human-habituation can damage orangutans and risk their chances of living independently in a forest.
On 22 January 2020 we wrote to SWD to ask that no SORC orangutan is released into Tabin without the centre first fulfilling these two demands:
– Present its plans for the release of Ceria and any other SORC orangutan into Tabin to the IUCN/SSC Primate Specialist Group. This should include available data which led the department deciding to move the orangutans to Tabin.
– Inform how long it plans to conduct post-release monitoring and publish the PRM data (as recommended by the IUCN), or at least submitting it to the IUCN/SSC Primate Specialist Group. The IUCN recommends that PRM be done ideally for at least a year.
If the orangutans mentioned above are indeed released without these two demands being met, members of the public and the media might again be misled to believe that the release is a conservation success, without evidence, as the SWD have done with an orangutan called Tiger.
The previous releases of the human-habituated Tiger unsurprisingly failed and his future is now in doubt once more. On 3 September 2019 SWD once again said they plan to release Tiger. There should also be full transparency on his planned release. Read more about Tiger and why post-release monitoring is important, here.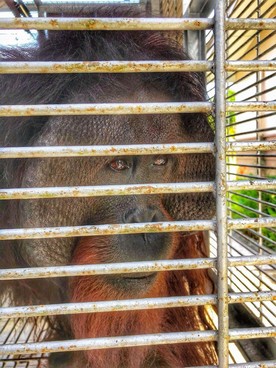 Photo: Tiger in his cage at SORC
*The British company which ran the unethical volunteering programme at SORC reportedly closed down in late February 2020. However, neither the SWD nor the Sabah environment ministry has confirmed that the programme will not continue. Read more here.