Published on 16 September 2020. Updated 26 November 2020
Coco is a chimpanzee who, according to PERHILITAN, the Peninsular Malaysia wildlife department, was born at Singapore Zoo. She was reportedly a surplus chimpanzee and in 1999 was sent to Melaka Zoo. We estimate her age to be in the mid-30s. Coco has been the lone chimp for about ten years after a different chimpanzee died at the zoo.
Melaka Zoo was previously managed by PERHILITAN and in 2013 the Melaka Hang Tuah Jaya Municipal Council (MPHTJ) took ownership of the zoo and leased it to a private entity, which also managed the zoo. On 1 October 2018, the MPHTJ took control of the zoo and installed new management, including a new director.
Chimpanzees are highly social and intelligent animals and, in the wild, live in large social groups. They should never be forced to live alone.
In the wild, chimpanzees may travel up to 10km a day. At Melaka Zoo, Coco spends her lonely, deprived life in a tiny outdoor enclosure. She is kept in an indoor den – which zoo visitors are not allowed to see – for over 12 hours a day when the zoo is closed.

Left: Coco's deplorable night den (July 2018). Right: The outdoor enclosure
In November 2018 Friends of the Orangutans (FOTO) delivered a proposal for retiring Coco to an African chimpanzee sanctuary to the then Melaka State Housing, Local Government and Environment Committee chairperson Tey Kok Kiew. A copy of the proposal was sent to the office of the ex-Chief Minister of Melaka, Adly Zahari, and the new Melaka Zoo Director, Zanariah Khamis. The sanctuary, accredited by the Pan African Sanctuary Alliance (PASA) and cares for over 30 rescued chimps from around the world, was ready to accept Coco.
In January 2019 we informed Ms Zanariah that Coco's transfer to the sanctuary would come at no cost to Melaka Zoo. Soon afterwards she informed that Melaka Zoo had agreed to send Coco to Taiping Zoo in exchange for a mandrill. The chimp is still at Melaka Zoo.
In January 2020 another proposal was sent to Ms Zanariah. We did not receive a response. During this time, Covid-19 hit, and we were eventually informed by the sanctuary in Africa, understandably, that Coco's transfer would not be feasible.
Instead of showing compassion, the current Melaka Zoo management appeared to be more interested in protecting its interests. It is also inconceivable that PERHILITAN has left Coco to languish all alone for years.
According to an April 2020 Bernama report, Melaka Zoo is a "conservation, research and educational centre." Based on what we have revealed above, can the public believe this claim?
Coco's transfer would have had to be approved by relevant authorities, including to determine that she was healthy enough to make the journey to the African sanctuary. Nonetheless, Coco's chances of being in the company of other chimpanzees at the sanctuary were denied by the zoo management. The sanctuary does not breed its chimps. Media reports indicate that Taiping Zoo has bred chimpanzees in the past.
In late September we wrote to Dr Luis Carlos Neves, Director of Zoology at Singapore Zoo, to ask if the zoo would be able to accept Coco. Singapore Zoo, where this chimp was born at and the most appropriate destination for her, has better facilities for chimpanzees than any Malaysian zoo. In his response, Dr Neves informed that the Malaysian Association of Zoological Parks and Aquaria (MAZPA) had been contacted "to inform them" about the concerns we raised about Coco. We have not had further news from Singapore Zoo since Dr Neves' email on 28 September.
Sadly, another Melaka Zoo great ape is living solitarily. Mardia, a 31-year-old female orangutan from Sarawak, is devoid of contact with other orangutans after the death of her offspring in mid-2019.
According to a 16 September news article, Melaka Zoo will receive "three new products", including three orangutans from the A'Famosa Resort's Safari Wonderland zoo and the Bukit Merah [Orangutan Island].
FOTO initially objected the transfer of orangutans to Melaka Zoo and suggested that Mardia is allowed to be sent to the Matang Wildlife Centre, near Kuching. The sanctuary is managed by the Sarawak Forestry Corporation (SFC). However, following PERHILITAN's response, FOTO informed the wildlife department on 29 September that before Melaka Zoo is allowed to import more orangutans the zoo would first need to agree to several conditions, including initiating and completing a significantly improved orangutan enclosure, and the prohibition of breeding. Click here to see several other prerequisites.
We informed PERHILITAN that if Melaka Zoo refuses the adopt the conditions Mardia should be allowed to be sent to the Matang Wildlife Centre. PERHILITAN has yet to inform if the zoo has agreed to the conditions.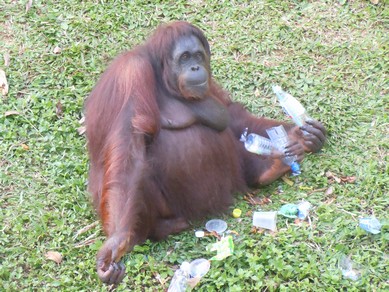 Mardia in her outdoor enclosure at Melaka Zoo
Friends of the Orangutans is opposed to the breeding of orangutans in captivity, and of great apes in general. Breeding these highly intelligent animals to only keep them captive for life is not conservation, and it is also unethical. Instead of breeding orangutans in captivity resources would be better spent on genuine orangutan conservation efforts, such as protecting and connecting the habitats of wild orangutans, addressing human-orangutan conflict and tackling the illegal wildlife trade.