The Langkawi Elephant Adventures (LEA) on Langkawi island, Malaysia, has held the elephant Lasah under deplorable conditions for ten years. Join Friends of the Orangutans in urging the Malaysian Environment Minister to prioritize Lasah's well-being by retiring him to the Kuala Gandah elephant sanctuary.
Please take action today:
Sign & share the petition: http://tinyurl.com/jbzlxew
Tweet to the Environment Ministry: http://ctt.ec/hf5Fc
Lasah is a 36 year old Asian elephant who was born in the wild and has spent over 20 years in several zoos including Singapore Zoo. He has been forced to work in a logging camp, perform in shows including in a popular Malaysian entertainment outlet and used in commercials and the 1999 film Anna and the King.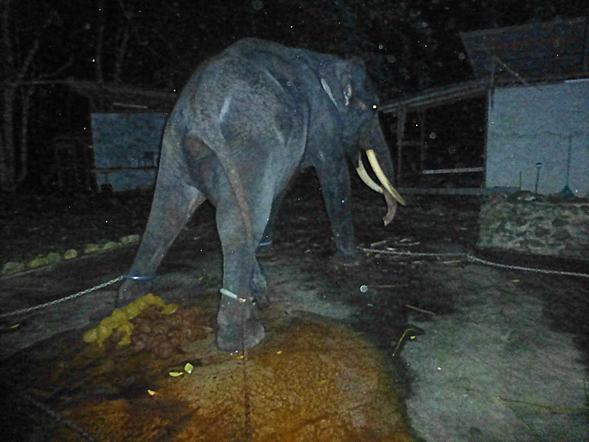 Chained on all four legs
After years of abuse and exploitation Lasah was sent to Langkawi in March 2006 and has since been forced to give rides for hours in sweltering heat and humidity while at the mercy of his handler. Recently investigators found Lasah kept in brutal conditions behind public eyes, chained on all four legs, as exposed in the photos here. Friends of the Orangutans Malaysia suspect Lasah is chained in this cruel manner during LEA's closing hours.This chaining method also breaks the Malaysian wildlife law.
Lasah has endured a lonely life of abuse and exploitation at the Langkawi Elephant Adventures and other places long enough. Please speak up for him today and help ensure that he spends the remainder of his days at the Kuala Gandah elephant sanctuary, where he will have the companionship of other elephants, space, and care that he deserves.