Published on 16 September 2020. Main photo: Coco in her enclosure at Melaka Zoo
Coco is a chimpanzee who, according to PERHILITAN, the peninsular Malaysia wildlife department, was born at Singapore Zoo. She was reportedly a surplus chimpanzee and in 1999 was sent to Melaka Zoo. Coco's exact age is unknown; we estimate that she is in her mid-30s. She has been the lone chimp at state-owned Melaka Zoo for about ten years after a different chimpanzee died at the zoo.
Chimpanzees are highly social and intelligent animals and, in the wild, live in large social groups. They should never be forced to live alone. You can easily help speak up for Coco and a female orangutan at Melaka Zoo by sharing this article and tweeting. CLICK HERE to tweet now. You can also write to Zanariah Khamis, the Melaka Zoo Director, at this email address.
In the wild, chimpanzees may travel up to 10km a day. At Melaka Zoo, Coco spends her lonely, deprived life in a tiny outdoor enclosure. She is kept in an indoor den – which zoo visitors are not allowed to see – for over 12 hours a day when the zoo is closed.

Left: Coco's deplorable night den (July 2018). Right: The outdoor enclosure
In September 2018 Friends of the Orangutans (FOTO) delivered a proposal for retiring Coco to a chimpanzee sanctuary in Africa to the then Melaka Zoo director. The sanctuary, accredited by the Pan African Sanctuary Alliance (PASA) and cares for over 30 rescued chimps from around the world, was ready to accept Coco.
Melaka Zoo was in a transition period, and a new director was appointed. We then sent a similar proposal in November 2018 to Tey Kok Kiew, the former Melaka State Housing, Local Government and Environment Committee chairman. A copy of the proposal was sent to the office of the ex-Chief Minister of Melaka, Adly Zahari, and Ms Zanariah, the new zoo director.
In January 2019, we informed Ms Zanariah that Coco's transfer to the African sanctuary would come at no cost to Melaka Zoo. Soon afterwards she informed through a text message that Melaka Zoo had agreed to send Coco to Taiping Zoo in exchange for a mandrill. The chimp remained at Melaka Zoo in 2019.
Another proposal was sent to Ms Zanariah, in January 2020. We did not receive a response. During this time, Covid-19 hit, and we were eventually informed by the sanctuary in Africa, understandably, that Coco's transfer would not be feasible.
Instead of showing compassion, Melaka Zoo appeared to be more interested in protecting its interests. It is also inconceivable that PERHILITAN has left Coco to languish all alone for years.
According to an April 2020 Bernama report, Melaka Zoo is a "conservation, research and educational centre." Based on what we have revealed above, can the public believe this claim?
Coco's transfer would have had to be approved by relevant authorities, including to determine that she was healthy enough to make the journey to the African sanctuary. Nonetheless, Coco's chances of being in the company of other chimpanzees at the sanctuary were denied by Melaka Zoo. The sanctuary does not breed its chimps. Media reports indicate that Taiping Zoo has bred chimpanzees in the past.
Suffering from a solitary life at Melaka Zoo for too long, we now request Singapore Zoo to offer to a new home for Coco. Singapore Zoo, where this chimp was born at and the most appropriate destination for her, has better facilities for chimpanzees than any Malaysian zoo.
Sadly, another Melaka Zoo great ape is in need of a new home. Mardia, a 31-year-old female orangutan from Sarawak, is devoid of contact with other orangutans after the death of her offspring in mid-2019.
According to a 16 September Sinar Harian news article, Melaka Zoo will receive "three new products", including three orangutans from the A'Famosa Resort's Safari Wonderland zoo and the Bukit Merah [Orangutan Island].
FOTO strongly objects the transfer of any great ape species to Melaka Zoo. The zoo's refusal to allow Coco's transfer to Africa suggests that it is apathetic to the welfare of its animals.
We urge Melaka Zoo to allow Mardia to return to Sarawak, and specifically to the Matang Wildlife Centre, managed by the Sarawak Forestry Corporation (SFC). The centre, near Kuching, also functions as a sanctuary for orangutans and other wildlife species. Animals are treated humanely at Matang and we do not doubt that the SFC will provide great care for Mardia.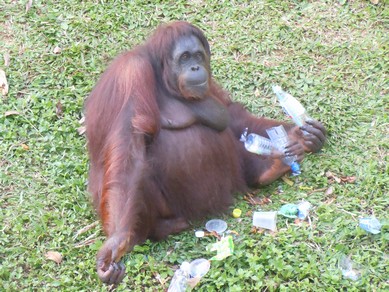 Mardia in her outdoor enclosure at Melaka Zoo
Friends of the Orangutans is opposed to the breeding of great apes in captivity. We assert that great ape conservation should focus on stabilising and protecting wild populations.
HELP GIVE COCO AND MARDIA A VOICE. Share this article, click here to tweet and write to the Melaka Zoo director at this email address.