We recently returned to visit 'Orangutan Island' within the Bukit Merah Laketown Resort. After looking at pictures of this place (link bottom), you will realise what is wrong with Orangutan Island. This island and the resort is owned by a Malaysian businessman, who was valued at USD $235 million in 2007 according to Forbes.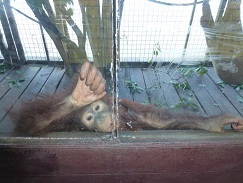 Orangutan Island is one of our targets for 2013. We need support and are currently welcoming Malaysian based volunteers. Please contact us at the email address below if you are interested.
At the same time, we are also looking to get support from other Malaysian wild animal/conservation NGOs, which may not be easy. Consider this statement by Rhett Butler of mongabay.com, who said in an article recently, "Malaysian conservation NGOs…typically don't confront the government".
Please see our Flickr page below for the latest pictures we got from Orangutan Island. Look for the "Older" tab above the pictures you see in link to go 'next'.
Friends of the Orangutans (FOTO) is now in a busy period, including sourcing for funds and local support to ensure our campaigns and projects are carried out according to plans.
Join Friends of the Orangutans on our Facebook page, link is available on the right side of the main home page.
Stay tuned and thank you for your support thus far!