Published on 6 October 2020
Kemaman Recreational Park and Zoo, or simply Kemaman Zoo, is located in the Kemaman district in Terengganu and is about one hour from Kuantan, Pahang. The zoo, opened in 2009, is state-owned and managed by the Kemaman Municipal Council (MPK). Concerns about the welfare of animals at the zoo, including that of orangutans, have been raised in the past.
CLICK HERE to tweet to Perhilitan, the Peninsular Malaysia wildlife department, to ask them to improve the lives of orangutans at Kemaman Zoo, and ensure that the apes are treated humanely.
Photos from mid-2015 show orangutans kept in unstimulating, near barren cages at the zoo. The zoo does have an outdoor enclosure.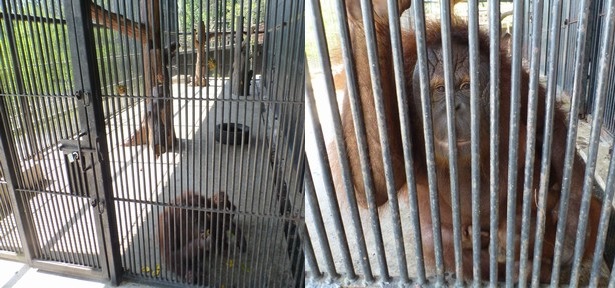 Note: there is an infant baby orangutan, called Boboy, with the female orangutan in the images above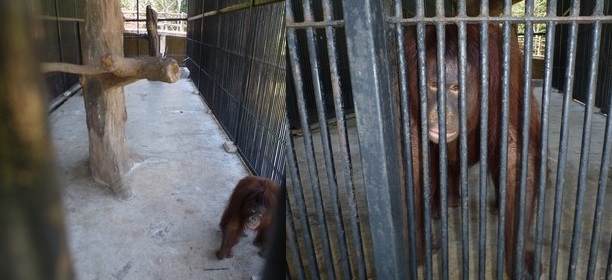 Near the end of 2017, Boboy, the infant orangutan who at the time was only four years old, was found kept in a cramped cage at the zoo. Three days later he was seen in the same cage. Just over two weeks later Boboy was again found in the same cage, at the same location. Shockingly photos from January 2018 once more showed this infant in the cage.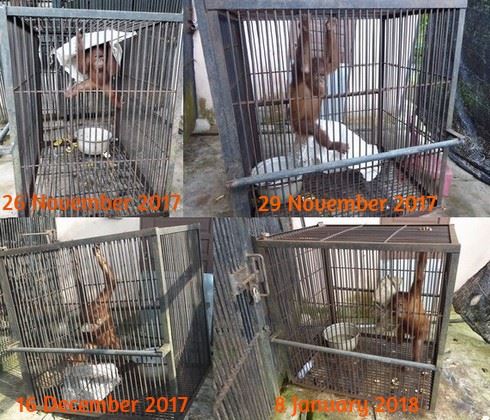 Did Boboy spend over a month in the cage? We also have images that show this infant kept in the same cage after the zoo was closed. On 10 January 2018, an article was published at Clean Malaysia, an environmental news website, about the plight of orangutans and other animals at Kemaman Zoo. Images of Boboy, a chained elephant and a tiger in a barren cage appeared in the article. Several days later the MPK and PERHILITAN, the peninsular Malaysia wildlife department, both denied any ill-treatment of animals at the zoo. A Terengganu state official claimed that Boboy had to be separated from his mother and provided three different reasons, including to treat an eye infection, while adding that "the baby was temporarily placed in a small cage so as to easily retrieve him for treatment without using sedatives."
Understandably, at times animals may have to be separated from their mothers or other animals for treatment. However, the manner in which Boboy was kept is unacceptable. The Wildlife Conservation (Operation Of Zoo) Regulations 2012 state that zoos must have a quarantine area to temporarily place or isolate newly acquired animals and to provide treatment to animals that are sick. Assuming that the zoo has a quarantine area, it is unknown why the infant orangutan was kept in an inhumane manner while undergoing treatment.
Photos that were taken near the end of 2017 also show orangutans, the most iconic Malaysian animal, kept in an appalling manner at Kemaman Zoo.

There were also photos taken in mid-2018 and at the end of the year that show the same unacceptable conditions.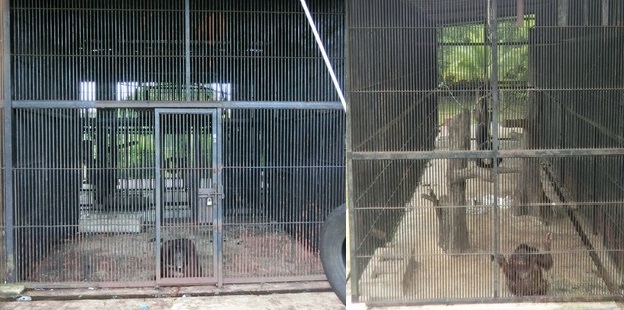 The latest photos of orangutans at Kemaman Zoo show some fire hoses in two larger cages.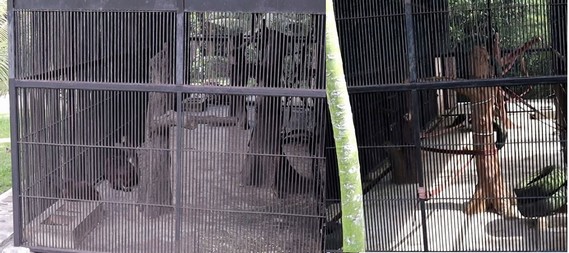 While any improvement is welcome, orangutans at the Kemaman Zoo need so much more than what the photos above reveal. It is unknown why the orangutans have often been seen sitting on concrete in their dreadful cages when there is an outdoor enclosure at the zoo. To reduce stress on captive orangutans they need the autonomy to get out of zoo visitors' view when they wish to do so. It is unknown how the zoo enables the apes to do so when they are kept in the two larger cages. Orangutans are extremely smart and complex animals. Yet, most of the time the apes at the zoo look bored and boredom can cause them psychological issues. Lack of physical activity may also cause health problems.
As of 2018, there were four orangutans at the zoo. Three females arrived from Melaka Zoo while Boboy was born at Kemaman Zoo. In 2014, Marina, a female orangutan at the zoo was sent to the Bukit Merah Orangutan Island (OUI) in Perak for breeding. She gave birth to an offspring in July 2016. The infant died several weeks later and Marina herself died a few days after her infant's demise. Marina could still be alive if she remained at Kemaman Zoo.
Breeding of orangutans in captivity should be stopped as there is little likelihood of captive-bred orangutans ever being released into their natural habitat. Furthermore, orangutans do not thrive in captivity. Kemaman Zoo should not transfer its female orangutans to a different zoo for breeding purposes, and male orangutans should not be sent to the zoo for the same reason. The OUI announced in a 2 September Facebook post the arrival of Melur, a female orangutan from Kemaman Zoo, at its facility for treatment. We do not know if there are also plans by both the Kemaman Zoo and OUI to breed Melur.
As they are highly intelligent animals, orangutans at Kemaman Zoo should be given different types of enrichment every day. If the zoo doesn't have one, an enrichment schedule should be drawn up to ensure enrichment is provided daily, both in their cages or in the outdoor enclosure.
What has changed to improve the quality of life of orangutans and other animals at Kemaman Zoo? Was it necessary to send orangutans from Melaka Zoo to Kemaman Zoo? Is the zoo even needed?
What can you do today to help orangutans at Kemaman Zoo?
Share this article
Tweet to PERHILITAN, the wildlife department. CLICK HERE to tweet now

Write to PERHILITAN. Use the email addresses below.

kadir@wildlife.gov.my
Dato' Abdul Kadir bin Abu Hashim
Director, PERHILITAN (Peninsular Malaysia wildlife department)

Add these emails in the CC list:
azhar@wildlife.gov.my
shamsul.anuar@ketsa.gov.my