Main photo: SORC visitor photographs an orangutan up close. Her face mask is in her hand. The person on the left, with a cane in his hand, is an SWD staff.
Published 1 July 2020
Tourism at the Sepilok Orangutan Rehabilitation Centre (SORC) was temporarily halted in March this year due to the COVID-19 pandemic and recently resumed on 15 June.
Although visitor precautions have been put in place, recent images show lax enforcement of the safety measures. This does not come as a surprise as the Sabah state government and its wildlife agency the Sabah Wildlife Department (SWD) have for years shown an apparent disregard for the Critically Endangered orangutans at the SORC by prioritising profits.
The International Union for Conservation of Nature (IUCN) had indicated that until proven otherwise, it's best to assume that great apes are susceptible to the novel coronavirus SARS-CoV-2, which causes Covid-19. In April, researchers noted that it is likely apes are prone to Covid-19. According to our colleagues in Africa and Indonesia great ape tourism in these areas has yet to resume as of 29 June.
At the moment, only Malaysians are allowed into the SORC. A sign outside the centre reminds visitors that they should refrain from entering if they have symptoms of cough, breathing difficulty, sore throat and headache. Body temperature is checked before visitors are allowed in, and a face mask must be worn when inside the SORC premise, which is half an hour outside Sandakan city.
However, pre-symptomatic (no Covid-19 symptoms in the early stages of infection) or asymptomatic Covid-19 carriers may still visit the SORC. Although the safety measures currently taken for tourist visits at the SORC are vital, it is impossible to reduce the risks of possible infection to SORC staff and orangutans down to zero.
Signs to remind SORC visitors to remain more than 15 metres of an orangutan have been placed at the centre. The signs also clearly state: COVID-19 may infect orangutans. However, enforcement of precautionary requirements by the SWD is questionable as visitors have recently been seen to come within less than 15 metres, without a face mask, all while being under the watch of SWD staff.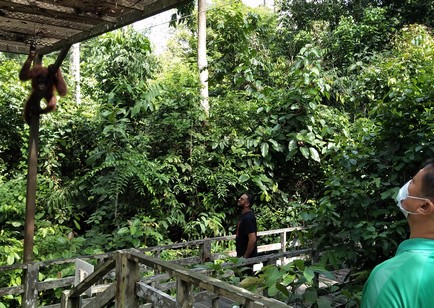 Photo: SORC visitor without a face mask getting too close to an orangutan. The person on the right is an SWD staff
Children have also been seen inside the SORC recently, either not wearing a face mask properly, or without a face mask. The IUCN's great ape tourism guidelines, published in 2010, state that tourism should not be allowed at orangutan rehabilitation centres, such as at the SORC. At areas where great ape tourism can take place, children under the age of 15 should not be allowed to visit as they are more likely than adults to release pathogens.
We had highlighted these and other unsustainable orangutan tourism practices at the SORC before the SWD suspended tourism at the centre in March, and health risks to orangutans in April.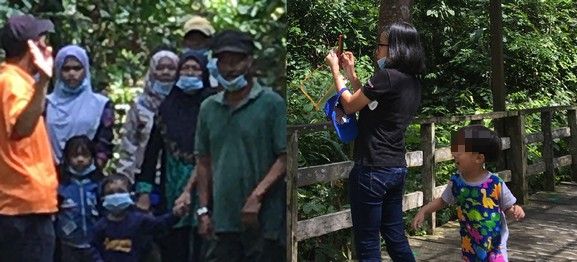 Photo: A child on the right without a face mask. Adults can be seen not wearing a face mask properly, including in the presence of an SWD staff (orange t-shirt)
Research has shown that human sneeze can reach up to a hundred miles an hour (about 160 km/h), and saliva from the sternutation can travel up to eight metres. Evaporating droplets from the sneeze can then remain suspended in the air for several minutes.
The research stated above were conducted indoors. However, the lack of or improper use of face masks at the SORC, and the fact that humanised (over habituation to, and/or overdependency on, humans) orangutans often travel terrestrially and come to within several metres of visitors at the centre undeniably increases the risk of disease transmission.
Great apes are susceptible to human diseases, including tuberculosis and influenza. The human coronavirus OC43 (HCoV–OC43) is known to infect chimpanzees. Like COVID-19, the OC43 coronavirus, tuberculosis and influenza are respiratory illnesses and can also be spread through the air.
It is also important to note that earlier in June, the Malaysian government had declared that Malaysians could start to travel from the peninsular to Sabah. AirAsia and Malaysia Airlines have resumed flights from Kuala Lumpur to Sandakan, enabling Malaysians travelling from the peninsular to visit the SORC soon after getting off a plane.
If the argument for reopening the SORC is to help local tour guides and companies, it is unfounded. Malaysians rarely utilise tour guides/companies for SORC visits. The centre is so reliant on foreign tourists that two hotels only minutes away from the SORC are still closed.
The Malaysian government has done a highly commendable job in controlling the spread of COVID-19. However, the risk of contracting and spreading the virus among people remains, and the risk of people possibly infecting orangutans at the SORC will be higher if the centre starts accepting foreign tourists before a vaccine is found.
Unlike at the esteemed Bornean Sun Bear Conservation Centre (BSBCC), where sun bears are kept apart from visitors at all times, it is a challenge to manage the movement of every tourist and humanised orangutan at the SORC especially when there are vast numbers of tourists around. Even with limited visitors currently, the Sabah state government and the SWD appear not to prioritise the health of a Critically Endangered Malaysian icon.
If the Sabah state government had transitioned towards sustainable and ethical orangutan tourism away from the SORC years ago, careful planning of the reopening of wild orangutan tourism would be more feasible. Instead, state officials have for many years appeared to be more interested in making a quick buck.
Is it time for some resignations at the Sabah Ministry of Tourism, Culture and Environment Sabah (KePKAS) and the SWD?
We have highlighted other serious concerns at the SORC. See our articles below.
COVID-19: Time for change at Sepilok Orangutan Rehab Centre
SWD's dubious plan to release two orphaned Sepilok orangutans
Sepilok orangutan tourism – here's what's wrong
When profits rule – Sepilok orangutan release disaster
British company folds, but will orangutan exploitation at Sepilok end?