With our ally Sabahat Alam Malaysia (SAM), FOTO organised a protest on April 12th that was held in front of KTS Trading's office in Penang. KTS is one of the "Big Six" of Sarawak and owns shares in BLD which is responsible for the destruction of peatland in Sarawak. Both KTS and BLD are owned by the same person, Dato Henry Lau one of the richest man in the state.
Below is our press statement:
NGO Demands End to Peat Destruction by BLD Plantation
BLD Plantation Berhad, a Malaysian palm oil company operating in Sarawak owned by the KTS Group – one of the 'Big Six' of Sarawak's timber corporations – has been exposed clearing peatland for oil palm planting in their concession located north of Sibu.
Since BLD obtained the license to exploit the area in 2000 they have cleared over 12,000 hectares (ha) of peatland out of the 20,400 ha concession, according to findings of Malaysian NGO Friends of the Orangutans (FOTO). Peatland is a fragile and unique ecosystem, and development on peat causes severe environmental impacts.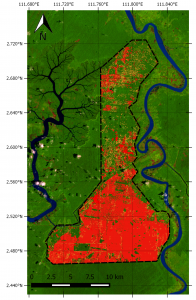 Deforestation (red areas) and forest degradation (orange) from 2001 to 2015 in BLD concession in the North of Sibu.
"We have been on the ground in BLD's Igan concession and despite being exposed months ago the company continues to destroy carbon rich peatland, creating drainage canals and roads for further oil palm plantings," said Upreshpal Singh, FOTO's Director.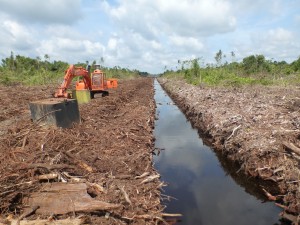 BLD continues to create drainage canals to stabilize the substrate for near-future oil palm planting.
Planting oil palms on peatland requires creation of drainage canals to stabilize substrate, which in combination with above ground vegetation removal patently have significant environmental impacts by releasing massive amount of carbon dioxide and other greenhouse gases in the atmosphere and by increasing both the frequency and intensity of flooding events. Other consequences of planting oil palms on peatland are the loss of biodiversity, the increased susceptibility to fires and the erosion of soil.
"We contacted BLD several times since last year to ask the company to stop the destruction. We even offered them our assistance for implementing a 'No Deforestation, No peat and No Exploitation' policy as the company appears to not have one. They chose to ignore us" said Upreshpal.
In 2015 Bunge Limited, an American based agribusiness giant suspended trading with Kirana Palm Oil Refinery Sdn. Bhd., a subsidiary of BLD, for not complying with the former's sustainability policies.
Aside from the environmental impacts of BLD's operations a local Iban community in Igan claims that the palm oil company had encroached their NCR lands. For this reason villagers from the villagers are dragging BLD to court. According to FOTO it is not the first lawsuit BLD is facing for allegations of NCR land encroachment by local communities.
"We received reports that a good number of residents from several villages in the Igan area have had to look for jobs in Sibu city and elsewhere as after BLD had converted forests into oil palm plantations, what was previously available in the forests, now has to be bought" said Upreshpal. Other communities have also informed FOTO that their livelihood have severely been affected since BLD started their operations on the communities' ancestral lands.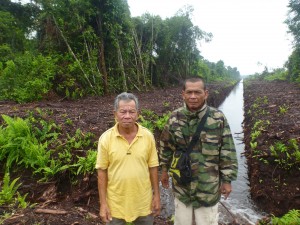 Villagers from kampung Tutus in front of a drainage canal built by BLD in the South-East of the concession in preparation for more palm oil planting.
In March Wan Abdillah Hamid, BLD's Executive Director, published an article in the Borneo Post questioning the veracity of claims by FOTO and other organizations of BLD's environmentally destructive practices in its concession. Wan Abdillah claimed the relationship of BLD with the local communities have been "cordial" and "productive".
According to Wan Abdillah BLD has helped build houses, a school and even provided electricity for villages. However, this claim has been questioned by FOTO, "One village in Igan, when informed of this claim, scoffed the company" added Upreshpal, "our investigation in other villages in the concession barely showed any sign of development".
Since last year, FOTO, together with an alliance of local and international NGO have been taking action in order to stop BLD's operations in this concession. In October 2015, representatives of this alliance officially met the Sarawak Chief Minister Tan Sri Adenan Satem in Kuching, presenting evidence of BLD's clearing on peat. Tan Sri Adenan Satem assured them of his desire to protect Sarawak's natural resources. However, as of now, the Sarawak government still has not taken any action to stop BLD.
"Our repeated emails to the chief minister's office have not been replied. Chief Minister Adenan declared there would be no more deforestation for palm oil in Sarawak but carbon rich peat forests and local communities continue to suffer at the hands of BLD" concluded Upreshpal.
The NGO concluded by claiming that BLD's continued destruction of Sarawak's peatland has gotten global attention and brings much embarrassment to Sarawak and Malaysia, especially when much of Sarawak's forests have been decimated and countless indigenous locals have been affected by the destruction.
-end-
Please find here SAM's press statement
Sarawak urged to protect its peatland (New Straits Times)
http://www.nst.com.my/news/2016/04/138759/sarawak-urged-protect-its-peatland