Below we post a special commentary by the CEO of Nature Alert regarding the dreadful condition of many zoos Indonesia. Orangutans and other wildlife are mismanaged and abused by uncaring zoos and they need urgent help.
—
Zoos in Indonesia have been in the news recently for all the right and wrong reasons.
Let me explain. In one day the Jakarta Post, recently published two articles critical of what is supposed to be Indonesia's flagship zoo: Ragunan. In reality it's a horrible place to visit. Most people go there at weekends only to escape the mayhem elsewhere in Jakarta.
What was refreshing about one article were the candid opinions of a zoo keeper. He clearly cared about the tigers he was responsible for. Even so, he admits tigers should not be imprisoned.
People do not go to Jakarta Zoo to learn about the animals. Mostly, they go to tease and torment them, because this zoo, like all others in Indonesia, is there to entertain and attempt to make a profit. They have nothing to do with conservation or education. Any foreigner who has the misfortune to visit this zoo on a weekend will surely live to regret it – the stuff of nightmares.
I've been visiting Ragunan Zoo for about twenty years and in that time have seen nothing improve. Yes, I have had plenty of sleepless nights after each visit.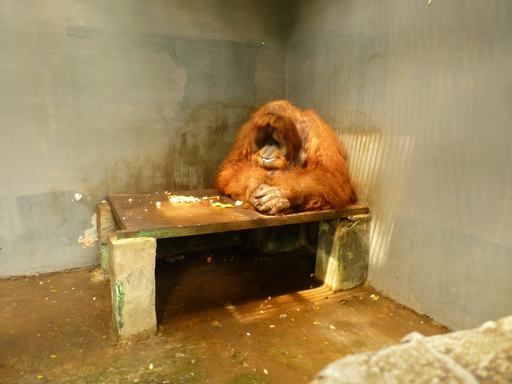 Orangutan at Ragunan Zoo (Photo: Friends of the Orangutans Malaysia)
Elsewhere in Indonesia you can easily see, if so inclined, widespread cruelty in zoos. It's impossible to avoid. One of the worst is known as the 'Zoo from Hell', at Bandung, the capital of West Java province.  This place is an endless pit of animal neglect and depravity. A sickening place to visit with starving animals and filth everywhere.
Now, anyone with a heart, might reasonably ask, 'why does the government permit this zoo to remain open, especially as the Mayor of Bandung, agrees the zoo is hell on earth for animals and is on record as saying he's told the ministry of environment and forestry many times to close the zoo, but they won't?'
When well-meaning NGOs like SCORPION offered their help and free food for the animals at Bandung Zoo, the manager aggressively denied there was anything wrong. Tachrir Fathoni, director general of ecosystem and natural resource conservation, has shown no interest in this, or any other zoo, in dire need either of closing, or new management.
All the evidence suggests neither the minister, or Tachrir Fathoni, care one bit about this zoo or the many others where animal suffering is of a plague-like scale. If you are fortunate not to have visited any of these zoos, imagine a concentration camp for animals and you will get the picture.
What happens next? Probably, nothing. Why? Because no one in the environment and forestry ministry cares. Not a single individual in the ministry has shown the slightest interest, or concern, for the appalling state of Indonesia's zoos.
What can you do to help? If you want to avoid encouraging animal cruelty and depravity, being reduced to tears by the sight of sick and hungry animals, your children being exposed to dirt and disease, it's best to stay away from every zoo in Indonesia.
If you doubt what I say, you need only to look on TripAdvisor for comments about any zoo. Just remember these comments are made by visitors – not NGOs or experts in animal welfare – people whose comments would be a lot more detailed and harsh.
Am I biased? Yes. Along with others, I do my best to speak for the animals incarcerated in dreadful zoos, unable to speak for themselves.
Sean Whyte
CEO
Nature Alert