http://www.youtube.com/watch?v=Yp35tnn9zX0
The A'famosa Resort (2 hours south of Kuala Lumpur, the Malaysian capital) is first and foremost a golf and entertainment holiday resort. In the adjoining A'Famosa Safari Wonderland zoo illegally obtained (wild caught in  Indonesia) orangutans have in the past been discovered but the resort was never prosecuted.
This same resort had humiliated its orangutans, a totally protected species, by making them perform tricks, play golf, ride bicycles,  among others. The same orangutans were then hidden behind public view in barren cages, and the zoo was again exposed.
This time resort have been exposed by Friends of the Orangutans for shocking treatment of elephants in their possession. When not made to offer rides and perform in elephant shows, the elephants are chained in a cruel manner for, we believe up to 15 hours a day, with no readily available drinking water and food available. A mahut (elephant trainer/handler) has also been caught on video sadistically hitting an elephant. Pictures available in our Gallery page, and the same pictures are also available in the 'A'Famosa's Abused and Exploited Elephants Need Our Help' Facebook page created and maintained by FOTO supporters at the link below:
http://www.facebook.com/saveafamosaelephants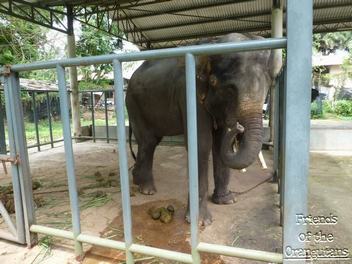 Malaysian based station Astro Awani premiered 'Plight of the elephants on parade' on 20th August 2013. This 25 minute programme exposes the atrocities A'Famosa Resort's elephants are forced to live through.
To our shock, link to this video was taken down only 48 hours after it went online, as with the article alongside the video. We can only guess 'powerful forces at play' influenced this disappointing outcome. The article though can be accessed through this link, while FOTO has uploaded the 25 minute programme here:
The resort management have claimed innocence and the Malaysian wildlife department has shockingly defended the management, read their statements at the link below.
https://www.fotomalaysia.org/?p=1050
We have announced our demands which will be published in our Press Statement which we have sent out on 30th August, it will be posted here and the 'A'Famosa's Abused and Exploited Elephants Need Our Help' Facebook page.
Action plans for you to take once will be announced here and the page above if we see the wildlife department still refusing to take immediate action once our Press Statement is out in the media. Stay tuned for updates.
Please do support our campaign to help the elephants at A'Famosa Resort, they are depending on us all.