In January last year photos and reports showing the eye-watering treatment of orangutans and other animals at Kemaman Zoo in Terengganu made headlines in the media. The conditions seen in the reports were not new though. Animals at Kemaman Zoo have been kept in poor conditions for years and despite receiving flak a year ago it appears so far that little has changed at the zoo.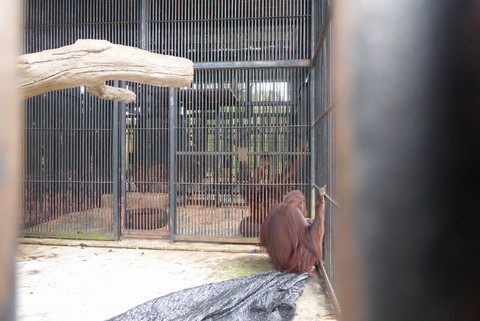 When Kemaman Zoo was exposed last year Perhilitan, the wildlife department, dismissed all allegations of poor welfare of animals at the zoo. In contrast, the Malaysian Association of Zoological Parks and Aquaria (Mazpa) took action and suggested improvements to the zoo and we thank Mazpa for being transparent and sincere with their findings. Since then the zoo has made minimal changes at both orangutan enclosures but they are still insufficient to meet the intricate needs of captive orangutans.
According to a June 2018 news report a stunning RM 60 million had been spent on expanding a state owned zoo which is reportedly bleeding money. How much was spent to upgrade the existing shoddy state of animals?
The latest photos we received, which have been verified, show the continued substandard welfare conditions for orangutans with no sign of an enrichment programme in place. Kemaman Zoo has two enclosures for its orangutans. The indoor enclosure consist of large and smaller concrete cages and they are almost barren and there is nothing for the orangutans to do. The sight of the orangutans in the cages is a disgraceful one and will leave any zoo visitor to wonder why in this day and age Malaysia still keeps orangutans in such manner. Orangutans are intelligent animals and poor captive situations like at Kemaman Zoo can lead to psychological and physical problems.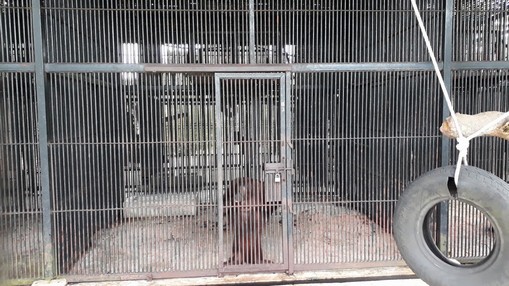 The outdoor enclosure needs to be worked on. We have been informed that it tends to flood when the zoo is inundated with rain water, which may occur more often during the monsoon season in the east coast of the Peninsular. A staff at Kemaman town council (Majlis Perbandaran Kemaman) claimed in confidence that there is no proper moat drainage at the outdoor orangutan enclosure. We will leave for state officials to comment on this.
When the outdoor enclosure is overwhelmed with water it is dangerous to let the orangutans out, and this leaves them spending more time in the cages. Water moats as barriers should be avoided in the first place as it increases the risk of drowning, which happened to an orangutan at Lok Kawi Wildlife Park, Sabah in the past.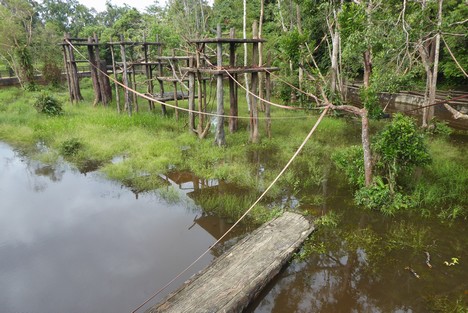 All our emails to state officials and the zoo last year were not replied to. In June Terengganu menteri besar Dr. Ahmad Samsuri Mokhtar welcomed assistance for the zoo and despite this state and zoo officials never responded to our offer to meet and help. Clearly the welfare of animals is not a concern of top zoo and state officials responsible for the zoo.
The sorry state of our orangutans and other wildlife at Kemaman Zoo needs to change. Instead of spending more money expanding the zoo and importing animals the state should spend on improving welfare of existing animals. We urge the public to boycott this zoo until vast changes have been made. We also ask KATS Minister Dr. Xavier Jayakumar to help the animals.
Photos: Malaysian Friends of Animals. Used with permission.