Please sign the petition to help orphan orangutans exploited at a luxury, 5-star resort.
Shangri-La's Rasa Ria Resort & Spa is a 5-star holiday resort an hour from Kota Kinabalu, the capital of the Sabah state in Malaysian Borneo.
For over 10 years the Rasa Ria Resort (RR) have been continuously supplied with orphan orangutans from the Sepilok Orangutan Rehabilitation Centre (SORC) in Sandakan.
According to the Shangri-La website, the purpose of RR's 'Orangutan Care' project is to rehabilitate orangutans (for wild release). The orangutans are later returned to the SORC to continue the rehabilitation process.
However, the Shangri-La Group uses the facade of rehabilitation to exploit the orangutans at the resort through tourism for profit and it's time this is put to a stop.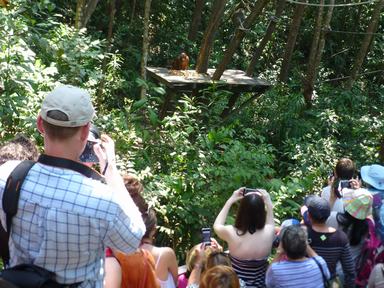 Tourists photograph orangutans at RR
Many individuals have expressed concern regarding the treatment and care orangutans at the resort receive. Late last year an orangutan called 'Tenten' died at RR. We have asked the Shangri-La Group to publicly announce the number of orangutans who have died at the resort but they have refused to do so while ignoring our request to voluntarily stop the exploitation at RR.
Earlier this year the General Manager of RR claimed "this (the orangutans at RR) is one of the assets that we have here".
Orangutans at RR are 'assets' to make the Shangri-La Group profits and nothing else. Moreover, rehabilitant orangutans don't belong in a luxury resort. FOTO demands the Shangri-la Group to stop the exploitation of Sabah's orangutans and return all existing orangutans at RR back to the SORC. No orangutan should be sent to the resort again.
Please take action today by signing the petition and tweeting. The orangutans at RR are counting on us all to help them.
Remember to also join our poster campaign. How it works:
1. Download and print the poster
2. Take a photo of yourself posing with the poster
3. Tweet it! Sample text for photo tweet: Stop exploiting #orangutans @ShangriLaHotels.They aren't yours to use and abuse.Return them to Sepilok @rrrshangrila
3. Send it to us at info@fotomalaysia.org