Below is the statement by FOTO regarding the sorry state of wildlife in the atrocious Miri Crocodile Farm in Sarawak. FOTO has written to Sarawak wildlife authorities asking for all sun bears to be confiscated and other animals helped, urgently.
—
Investigators from Friends of the Orangutans Malaysia (Foto) recently investigated the Miri Crocodile Farm (MCF) in Sarawak after we received numerous complaints of cruelty and exploitation of wildlife from concerned members of the public. We were shocked to find the conditions the animals are forced to live in at the farm (it's not even a zoo).
At MCF we found three sun bears forced to live in appalling conditions. These sun bears are visibly stressed and are suffering from zoochosis as a result of living in a concrete tomb without enrichment. No readily available, clean drinking water was seen. These are conditions which resembles a 19th-century zoo. Sun bears are a protected species in Sarawak and with many bear experts calling for urgent action to prevent their extinction in the wild. These bears and other animals at the farm urgently need help.
The management of MCF also offers farm visitors opportunities to take photos with a sun bear cub. According to a staff, this cub is taken (away from its mother) from an enclosure and returned to it at the end of the day. Although no evidence of this practice could be determined by our investigators, it seems far more likely that the bear permanently resides in a barren metal cage next to the photo session area. Needless to say even if this is true it is extremely cruel to take this cub away from its mother so farm visitors can have their photographs taken with it.
It seems obvious that it is also extremely dangerous for both the bear and the public as the cub could at anytime, without warning, maul a farm visitor with its very large claws and when this happens would this just be the fault of the irresponsible and abusive MCF management or also the failing of the wildlife authorities in Sarawak who have allowed this practise to continue for almost 20 years despite repeated complaints from the public and media? Sun bears are extremely strong animals and by no means tame.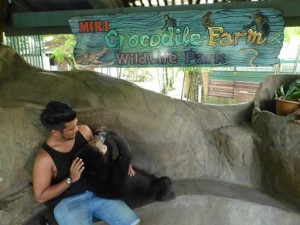 A farm visitor with the sun bear cub
Sun bears are listed as an Appendix I animal and therefore a totally protected species as listed by CITES, while the Sarawak Wild Life Protection Ordinance, 1998 states that Appendix I animals "shall (not) be reared, kept, grown or cultivated in any commercial wild life farm". So why has MCF gotten away with keeping and abusing the sun bears all these years?
Our investigators also saw erratic and stressed macaques kept in near barren cages, forced to sit on cold concrete day in, day out. Horses look thin and pale, reptiles such as snakes housed in tiny aquarium tanks. The list is endless and to summarise MCF is a nightmare for all wildlife. It seems the management of the farm either doesn't know how to, or cannot be bothered to provide even basic care for its animals or are severely underfunded. Possibly all three.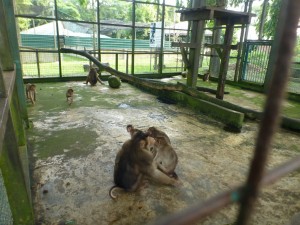 Short tail macaques
Foto asks the Sarawak Forestry Corporation, Sarawak Forestry Department or some other authority for wildlife in Sarawak to urgently re-home at the very least the four sun bears and all IUCN Endangered animals at MCF. The farm also needs to urgently improve the living conditions of all other remaining animals there. In neighbouring Sabah there is now a world recognised sun bear education centre and sanctuary of international excellence; also following our public campaign against cheap and nasty tourist traps abusing sun bears for profit. The Sabah Wildlife Department earlier this year rescued the now internationally infamous Tawau Hot Springs bears and rehoused them at the sun bear sanctuary.
All animals need our care and respect and they must not be used and abused for monetary or other purposes. We call on all Malaysians to speak out and take action for the voiceless animals. Citizens of our country should also remember that wild animals belong in the wild and not in captivity for the entertainment of zoo/farm visitors.