Main photo credit: Travellers Worldwide Instagram
Friends of the Orangutans • 6 July 2020
The Sabah Wildlife Department (SWD) recently confirmed that an exploitive voluntourism programme practised at the Sepilok Orangutan Rehabilitation Centre (SORC) for more than 15 years until early 2020 has been permanently discontinued.
Previously, with the approval of the SWD, British company Travellers Worldwide sent up to 12 unqualified individuals to the SORC every four weeks. The 'volunteers' were able to take part in the rehabilitation process of orphaned orangutans that undergo training at the centre for eventual forest release. Each individual paid around US$ 3,400.
The practice was commercial exploitation of a Critically Endangered wildlife species sanctioned by the SWD, the Sabah state wildlife agency under the Sabah Ministry of Tourism, Culture and Environment (KePKAS).
After Travellers Worldwide ignored our demand to stop their volunteering programme at the SORC, Friends of the Orangutans (FOTO) started campaigning against the company in late 2019. In December 2019, the Asia for Animals Coalition (AfA) wrote to Travellers Worldwide to ask that the company ceases its volunteering programme at the centre. Almost 200 animal organisations from around the world co-signed the coalition's appeal letter.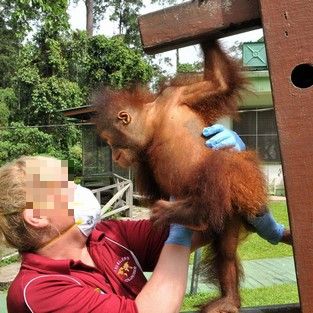 In January 2020 Travellers Worldwide ceased operations. After making two inquiries, the SWD revealed to FOTO on 11 June 2020 that members of the public would not be allowed to take part in the rehabilitation process of orangutans at the SORC any longer.
Orangutans undergoing rehabilitation should only be exposed to, and bond with, minimal number of caregivers as possible in their early years as the apes are guided through the rehabilitation process. Rehabilitation at the SORC should be carried out by the SORC's permanent staff only.
Having ever-changing personnel working hands-on with rehabilitant orangutans increases the risk of the apes becoming humanised (over habituation to, and/or overdependency on, humans). Humanisation diverts the orangutans' interest away from natural behaviours and interactions within the forest environment and may fail an orangutan's rehabilitation. Our previous article explains why allowing the general public to join the rehabilitation process of orangutans can be harmful to the apes.
Reputable orangutan rehabilitation centres, such as those run by organisations International Animal Rescue and the Sumatran Orangutan Conservation Programme (SOCP), have never allowed the public to engage with orangutans in their care. Their centres do not allow any form of tourism.
The SWD should have stopped Travellers Worldwide's exploitation of SORC orangutans years ago – as the Sabah state government wildlife agency, the SWD has authority to do so. Nonetheless, we applaud the SWD for this positive development and thank the AfA Coalition for their support. 
There are still other concerns at the SORC, including unsustainable tourism and the fate of six orangutans. Updates on these and other SORC issues will be posted on our website.
See our other articles regarding the SORC below.
Sepilok orangutan tourism – here's what's wrong
COVID-19: Time for change at Sepilok Orangutan Rehab Centre
When profits rule – Sepilok orangutan release disaster
Perilous orangutan tourism resumes at Sepilok amid COVID-19 pandemic
SWD's dubious plan to release two orphaned Sepilok orangutans
No transparency from Sabah wildlife authorities on welfare concerns of 6 Sepilok orangutans